Background
The South of Ashford Garden Community began as an idea following the outline permission to build Chilmington Green. This development was the result of ongoing public consultation dating back to 2004. The question at the time was how to best locate housing growth within the Borough in response to housing shortages.
After a series of in depth seminars - with hundreds of members of local communities taking part - The Greater Ashford Development Framework (GADF) was adopted. In essence it was based around high density development near the town being preferred to more of the development creep the town had experienced to that point. All development in Ashford since has been based on the principles established in GADF.
Great Chart with Singleton Council had long seen their bypass as having created a barrier which prevented their old Saxon village being engulfed by urban sprawl.
But GADF suggested the Chilmington Development should spread cross to the Great Chart side of the A28. A series of meetings and workshops with Planning took place , where the local community proposed adding extra development land on the eastern side of the A28 to compensate for not crossing the A28 (see diagram). The proposal was accepted and the wording in the resulting Core Strategy document (2008) secured the principle that the A28 would never be crossed. A clear indication the planners and the community were working together.
That principle having been established, the Chilmington Green Stakeholder Meetings - between planners, developers and the local community has allowed continual input from the community, right through to the point where the Stakeholder group expanded into the South Ashford Garden Community.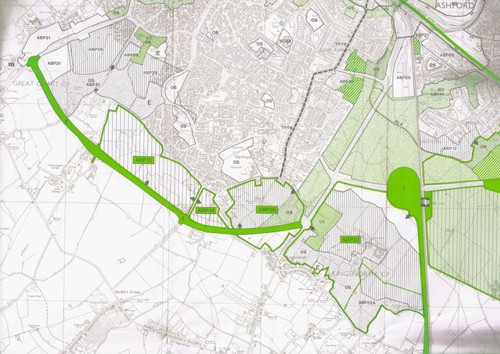 1991 early proposals for a link road which never came to fruition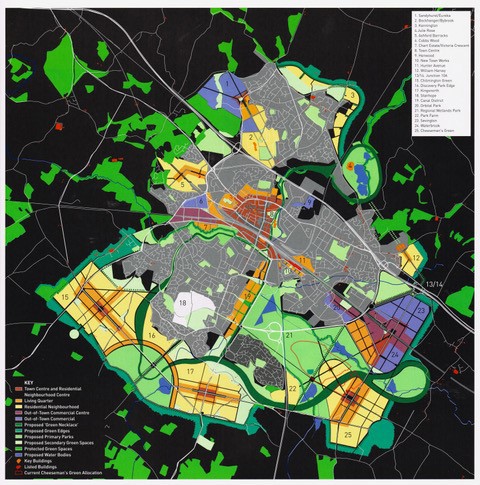 Greater Ashford Development Framework 2004