Creative Placemaking Sprint
After a successful series of events during 2022, our community partners, Emergency Exit Arts have been re commissioned to continue their work with the residents of Chilmington Green for 2023. Building on the adopted principles for the previous year, their focus is building the community through workshops and unique initiatives.
The team have designed an innovative way of gathering people together through their love of food. Residents are actively encouraged to share their treasured family mealtime favourites including the stories and origins behind the culinary delights, and given the fantastically diverse culture throughout Chilmington Green, a wide range of recipes  have already been collected.
As part of this project, for the Coronation of His Majesty, King Charles III, a series of pop up events were held throughout the site. Residents could take home their very own choice of vegetable seeding  or plant a seed, while sharing what they love to cook!
All the recipes, and stories, will be collated into a cook book to be given to the whole community. In late July, a Community Feast is scheduled to be held where a selection of recipes will be cooked by a professional chef and enjoyed by all.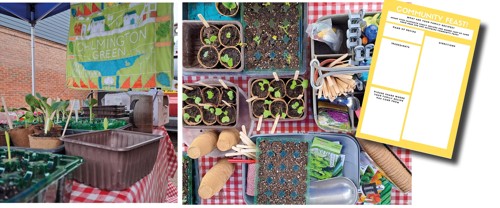 2022
A creative company has been commissioned to deliver a series of activities and events over the course of 2022. Emergency Exit Arts and Locality teamed up to create a programme of arts-based events on the themes of community, heritage, environmentalism, health and well being.
The concept of placemaking here is about how local people are defining the new communities of Chilmington Green and the wider South of Ashford Garden Community. What spaces are becoming places or what spaces will become these destinations in future and how can they be animated today. The commission seeks to work with local communities, and local groups to tell these stories in interpretive and expressive ways. 
The team has prepared designs for a Chilmington Green flag which interprets the stories of local people and illustrates some of the things they like most about their community. These flags will be bespoke hand-made pieces displayed at each of the build areas across Chilmington Green. The hope is that they will become permanent fixtures and a recognisable symbol for the people living there.